tonight and the rest of my life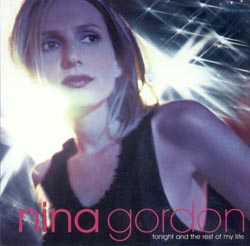 Click Here To See The Warner Promo Cover
1. Now I Can Die (Promo Single)
2. 2003
3. Tonight and the Rest of My Life (Single)
4. Badway
5. Horses In the City
6. Hold On to Me
7. New Years Eve
8. Fade to Black
9. Number One Camera
10. Got Me Down
11. Too Slow To Ride
12. Hate Your Way
13. The End of the World
2000 Warner Bro. Recordings
---
Tonight and the Rest of My Life Album Info
Release date of June 27th, 2000.
Produced by none other than Bob Rock.
Recorded in Maui from November 14th, 1998 to May 1998.
Musicans:
Nina Gordon - Vocals, Guitar
Jim Shapiro - Guitar
Mike Eisenstien - Guitar
Scott Reibling - Bass Guitar
Stacy Jones - Drums
Jon Brion - Keyboard, Guitar
John Webster - Keyboard
Singles include - "Now I Can Die" and "Tonight and the Rest of My Life".
Interesting Facts:
The album was originally suppose to be released on Outpost Recordings August 1999, but unfortunately the label desolved due to the Geffen/Interscope Merger.
The Outpost tracklisting was:
1. Tonight And The Rest of My Life
2. Now I Can Die
3. 2003
4. Badway
5. Horses In The City
6. Hold On To Me
7. New Years Eve
8. Fade To Black
9. Number One Camera
10. Got Me Down
11. Black And Blonde
12. Too Slow To Ride
13. Hate Your Way
The Outpost cut of the album included a track that is not on the final Warner Brothers Recording release. The title of the song was "Black and Blonde", track number 11. "i dropped black and blonde because it was a mean song about someone whom i don't want to be mean to, and because i had to cut something so i could add the end of the world without making the album painfully long". She went on to tell me that "Black and Blonde" will most likely re-surface as a b-side.
Another song that was rumored to appeared on the "Tonight and the Rest of My Life" was "Like It Happens Everyday". According to someone I've spoken to it was reminiscent of Nina's contributions to Veruca Salt. "like it happens every day was one of my favorite songs on the demos, but i wasn't crazy about the way it turned out in the studio. maybe i'll record it again".